Julius Rosenberg and Ethel Rosenberg
2012-08-28 14:15:03
On June 19, 1953, shortly after 8 p.m., in the Sing Sing Correctional Facility in Ossining, New York, Julius and Ethel Rosenberg were executed. A little more than two years before, both had been convicted for passing to the Soviet Union atomic secrets related to U.S. development of a nuclear weapon (the Manhattan Project), in violation of Section 2 of the Espionage Act of 1917. Both were sentenced by U.S. District Court Judge Irving Kaufman to die by electrocution in Sing Sing's electric chair. The Rosenbergs maintained their innocence to the very end. Although certain facts of the case remain contested to the present day, some factual matters seem to have been resolved when, in 1995, the National Security Agency released declassified translations from the ''Venona Project.'' It now seems clear that Julius Rosenberg had indeed passed information to Soviet agents, although the actual harm to U.S. security caused by his actions remains contested. Ethel Rosenberg's knowing involvement in any espionage activity, however, seems very much in doubt.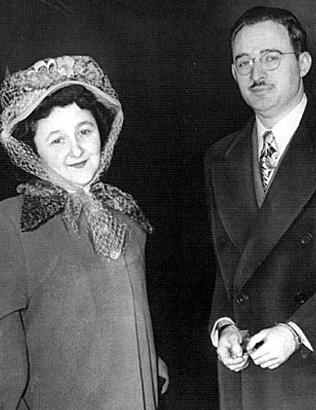 At the time of the Rosenbergs' arrest and trial, the United States was in the grip of an increasing level of fear. On September 29, 1949, President Truman announced to the American public that the Soviet Union had exploded an atomic bomb. The specter of the communist nation, now armed with an atomic bomb, much sooner than anyone expected, generated anxiety at all levels of American society. The Cold War was now fully engaged. An increasingly virulent anticommunism manifested itself in the prosecution under the Smith Act of several Communist Party members toward the end of 1948 (see Dennis et al. v. United States [1951]). And the Rosenberg prosecution itself contributed to the emergence of a second ''red scare'' associated with the brief national ascendance of Wisconsin Senator Joseph McCarthy.
The origins of the Rosenberg prosecution can, perhaps, be traced to the early days of 1950 and the conviction for perjury of former State Department official Alger Hiss. Two years earlier, Hiss was named as once having been involved in unlawful clandestine Communist Party activity by former Communist Party member Whittaker Chambers, in testimony given before an executive session of the House Un-American Activities Committee (HUAC). Later testifying before both the HUAC and a subsequently convened federal grand jury, Hiss denied, under oath, any past or present involvement with the Communist Party. Chambers was able, however, to produce compelling evidence to the contrary and Hiss was ultimately charged and convicted on two counts of perjury, for which he served the majority of a five-year sentence in federal prison. Despite Hiss's continued protestations of innocence, and despite continued support for Hiss from various quarters, the attention given to Chambers's accusations and Hiss's subsequent conviction provided a platform for anticommunist crusaders such as Senator McCarthy, who alleged extensive communist infiltration at the highest levels of government. Then, within a month of Alger Hiss's conviction, the British physicist Klaus Fuchs was arrested and charged with passing atomic secrets to the Soviet Union. The information was related to Fuchs's work as a nuclear scientist on the Manhattan Project, begun in New York City and brought to completion in the New Mexico desert at the Los Alamos facility. Confronted with evidence obtained from the ''Venona Project''— evidence that indicated he had been transferring detailed nuclear secrets to an American chemist and Soviet agent named Harry Gold—Fuchs soon confessed. He was convicted of espionage and sentenced to fourteen years in prison, of which he served nine years. Gold, too, quickly provided a voluntary confession regarding his role in receiving and transmitting information from Fuchs as well as other activity; he was sentenced to thirty years in prison. Exposure of the Fuchs–Gold connection at Los Alamos began to clear a trail that would also lead to the Rosenbergs.
When questioned by the Federal Bureau of Investigation (FBI), Harry Gold provided information of an un-named American soldier who had worked at the Los Alamos facility and who had provided Gold with important information regarding an ''implosion lens'' for an atomic weapon. Further investigation revealed the name of the soldier, Gold's contact, to be David Greenglass. Greenglass was Ethel Rosenberg's brother. In June 1950, during FBI questioning, David Greenglass confessed to passing secret information to Harry Gold; he also identified others whom he alleged were involved in the ''spy ring,'' among them, his brother-in-law, Julius Rosenberg. Indeed, Greenglass maintained that Rosenberg was the one who initially encouraged and would later direct his illegal activity. Greenglass's testimony would prove crucial in the government's prosecution of the Rosenbergs. He received a fifteen-year sentence and, in 2001, would admit that he falsely implicated his older sister Ethel Rosenberg, under pressure from the FBI, in order to protect his wife Ruth from potential prosecution.
Within a month of Greenglass's initial questioning, Julius Rosenberg was picked up at his New York apartment for questioning. Rosenberg, the son of Polish immigrants, grew up in very modest circumstances in Manhattan's lower east side. While a student at New York's City College, Rosenberg became involved in leftist politics, joining the college's Young Communist League (YCL). It was through his involvement with the YCL that Rosenberg would meet his future wife, Ethel Greenglass. And, it was also City College where Rosenberg initially met and became friends with Morton Sobell. Sobell would later stand trial as a co-defendant with the Rosenbergs. Convicted and sentenced to thirty years in prison, Sobell continued to maintain his innocence after his release from prison in 1969.
Unlike Fuchs, Gold, and Greenglass, Julius Rosenberg refused to admit involvement in any illegal activity, and refused to name names of those who might be involved in such activity. On July 17, 1950, within a month after the FBI first questioned him, and based in part on further information provided by David Greenglass and his wife Ruth, Julius Rosenberg was arrested while at home with his family. Rosenberg continued to deny the allegations against him. Less than a month later, on August 11, 1950, Ethel Rosenberg was arrested by the FBI as well. Although the evidence against her was limited, many historians have suggested that Ethel Rosenberg's arrest was initially premised on the belief by the FBI that she could be used to leverage a confession from her husband. If this was the plan, it failed, and U.S. Attorney Irving Saypol, fresh from his successful prosecution of Alger Hiss, along with Assistant U.S. Attorney Roy Cohn, secured grand jury indictments on January 31, 1951, and commenced with the federal prosecution that culminated in the trial of Julius and Ethel Rosenberg, and Morton Sobell, in the New York federal courthouse on March 6, 1951.
In a jury trial lasting nearly a month, the prosecution relied heavily on testimony by Ruth and David Greenglass, and Harry Gold. Julius and Ethel Rosenberg testified in their own behalf and were the only witnesses called by defense attorney Emanuel Bloch. Closing statements by both the prosecution and defense were marked by appeals to the jurors' emotions. Emanuel Bloch, whose zealous advocacy on behalf of the Rosenbergs has become legendary, urged members of the jury to set aside any anticommunist biases they might have held, but then sought, in the harshest of language, to direct the jurors' emotions against the principal prosecution witness, David Greenglass. In so doing, Bloch seemed to gesture toward another law, one of family and blood relations, something violated by Greenglass's testimony. Bloch seemed to want to use Greenglass's tragic ''betrayal'' of his older sister and her husband as a way to push the Rosenbergs' alleged betrayal of their country to the margins of the jurors' consciousness. Irving Saypol, on the other hand, sought to underscore the Rosenberg's Communist Party membership. This was an ideological affiliation, according to Saypol that, once understood, would explain the Rosenbergs' behavior. Their loyalties, said Saypol, were to the Soviet Union and the cause of worldwide communist revolution. The trial ended on March 28, 1951 and a jury of eleven men and one woman would, the next day, find all three defendants guilty, under the Espionage Act of 1917, of ''conspiring to commit espionage in wartime.''
Judge Irving Kaufman imposed the death sentence against the Rosenbergs on April 5. In his Sentencing statement, Judge Kaufman characterized the Rosenbergs' crime as ''worse than murder.'' According to Kaufman, the Rosenbergs put an atomic bomb into the hands of the Soviet Union ''years before our best scientists predicted.'' In other words, the monopoly on atomic weapons enjoyed by the United States and its allies had ended as a result of the Rosenbergs' actions and, as Kaufman understood it, they were, therefore, directly responsible for endangering the entire country, putting at risk millions of innocent people—a betrayal that, said Kaufman, ''undoubtedly ... altered the course of history to the disadvantage of our country.''
Over the next two years, Emanuel Bloch unsuccessfully appealed the Rosenberg's conviction. Thousands of others—including the Rosenbergs' own small children—marched in support of the couple, urging political intervention on the Rosenbergs' behalf. On June 19, 1953, the couple's efforts were exhausted, however, as the U.S. Supreme Court vacated a stay of execution that had been entered two days before by Justice William O. Douglas. They were executed later that evening.
WILLIAM ROSE
References and Further Reading
Gaddis, John Lewis. The Cold War: A New History. New York: Penguin Press, 2005.
Haynes, John Earl, and Harvey Klehr. Venona: Decoding Soviet Espionage in America. New Haven, CT: Yale University Press, 2000.
Meeropol, Robert, and Michael Meeropol. We Are Your Sons: The Legacy of Ethel and Julius Meeropol. 2nd ed. Urbana-Champaign: University of Illinois Press, 1987.
Meeropol, Robert. An Execution in the Family: One Son's Journey. New York: St. Martin's Press, 2003.
Nizer, Louis. The Implosion Conspiracy. Garden City, NJ: Fawcett Books, 1973.
Radosh, Ronald, and Joyce Milton. The Rosenberg File. 2nd ed. New Haven, CT: Yale University Press, 1997.
Roberts, Sam. The Brother: The Untold Story of the Rosenberg Case. New York: Random House, 2003.
Cases and Statutes Cited
Dennis, et al. v. United States, 341 U.S. 494 (1951)
Rosenberg v. United States, 346 U.S. 273 (1953)
United States v. Rosenberg, 195 F.2d 583 (2nd Cir., 1952)
United States v. Rosenberg, 200 F.2d 666 (2nd Cir., 1952)
18 U.S.C. Section792 et seq.